A Path of Plenitude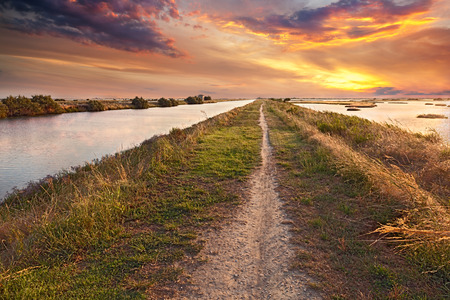 The rest of the line reads:
"A path of plenitude opening before you" or as I am reading it "A path of plenitude opening before me."
(I was at a day-long writing retreat on Saturday, January 7th with the fabulous Ali M. and one of the exercises she created was to pick a line that speaks to us from the John O'Donohue poem For A New Beginning.)
A path of plenitude stood out for me.
Who is this me?
I am.
Who receives this plenitude?
I am.
Who journeys on this path?
I am.
For many years, the attitude, the frustration, the fear is I've experienced or journeyed on a "path of scarcity."
Not enough.
And this time of "not enoughness" has in fact brought me the most life, love, grace as it has brought me to the edge.
Consciousness, awareness, awake-ness has brought me to the edge of plenitude. Being at home with more. Deeply experiencing fullness and yet knowing that emptiness is the same thing – the same sinewy substance as fullness.
My mind goes to what's in between this emptiness…this fullness, and the response was 'satisfaction.'
Feeling satisfied.
Feeling full of well-being.
Enough-ness. Not too muchness.
I'm clear that I want more in the areas of life that have felt like deprivation.
What are those?
I know it's in the arena of actual money.
There I an in-debted-ness that comes in the form of taxes and I want – I need to be debt-free.
I notice as I write this, there is a knowing that some part of me has made peace with the indebtedness. The fear + frustration though hang about in the air, like CO2 bombs threatening to cut off the oxygen supply – shackle me to a path of plenitude in hell.
Interesting, my friend Cynthia talked yesterday about a place between death and resurrection. There is a tomb time,  a visitation to the underworld to be with the shadows, the shades, the reconciliation.
I have spent so long pushing away,
                                                              pushing off,
                                                                                   pushing down.
Life in-between.
I talk so often about the space in-between.
What's it like to live for a time accepting and peaceful in limbo?
I sense that the moment there is acceptance, there is no limbo-ness – no limbo-mess.
It ceases to be. Because "limbo" is a mental construct and as the mind shifts – limbo dissolves.
-Mary's Musings
January 7th, 2017